| | |
| --- | --- |
| 1978 Don Vesco and his "Lightning Bolt" Kawasaki motorcycle streamliner | 2001 Don Vesco and "The Turbinator" with the Hot Rod Magazine Top Time Trophy |
In celebration of the 15th year since Don Vesco set the World's Wheel Driven Automotive record, we take a look back at his accomplishments in both motorcycle and automotive record setting history. To honor this 46 years of record breaking, we are undertaking the "Don Vesco Legacy" restoration project. Don's 1978 motorcycle landspeed record, set with his "Lightning Bolt," powered by Kawasaki twin KZ1000 engines streaked across the Bonneville Salt Flats with a one way speed of 333 mph, ultimately setting an F.I.M record at 318.330 mph. The record held for over a decade.
Don's automobile record setting began as a young man in his dad's 1957 Model B Ford streamliner known as "Little Giant." In this car Don gained entry into the prestigous 200 mph Club in 1963. Throughout the decade of the 1990s Don and brother, Rick, teamed up to propel "The Turbinator" to the amazing top speed of 470 mph in 2001. This F.I.A. record of 458 mph record remains the World's Fastest Wheel Driven aubomobile.
Don Vesco & The Turbinator
It was in 2001 that legendary Don Vesco blazed across the Bonneville Salt Flats in the beautiful 30 ft. long "Turbinator" streamliner setting the F.I.A. Absolute Wheel Driven Landspeed Record @ 458 mph, (a record that still stands today!) Weeks before the record run, Don made his fastest pass down the flats @ an amazing 470 mph! After this "test" run Don was certain he could achieve his ultimate goal of 500 mph. However, cancer claimed his life the following year, leaving his goal and dreams unmet. We celebrate Don's life and take a look back at the man - the forever racer.
We Celebrate the Life & Legacy of Don Vesco
| | |
| --- | --- |
| Don Vesco, photo by Gordon Menzie | |
The Motorsports Hall of Fame of America museum is unique. No other motorsports facility is dedicated to showcasing all forms of racing; cars, trucks, motorcycles, aircraft, snowmobiles, watercraft and more. The Motorsports Hall of Fame of America is dedicated to both educating and entertaining the public while honoring and immortalizing the men and women and the exciting machines that made motorsports history. The Hall of Fame pays tribute to racers who have demonstrated skill and excellence in motorsports. In 2004 Don was honored as an inductee into this prestigious group. Brother Rick accepted the honor on behalf of Don, who had passed away 2 years before. We humbly thank and appreciate the Hall of Fame for the great work they do in preserving the memory of those who have contributed to American racing history. The Hall is located in Novi, MI.
World Finals October 18, 2001
Author Louise Noeth, "Landspeed Louise," interviews Don...
Don Vesco & The Turbinator vs The Viper
1963 Don Vesco enters the 200 mph Club
Don's 1st Yamaha Streamliner
1969 - 1970 Don breaks motorcycle landspeed record
1970 Team Vesco & "Big Red"
At Speed Week 1969 Don Vesco posted the fastest one-way motorcycle time at 227 mph in his twin 350 cc R3 Yamaha streamliner. The 18 ft. liner was fashioned out of a wing tank. Handling problems plagued Don and crew but they were encouraged with the speed and power the Yamahas produced. Team Vesco returned to the salt the following year with a redesigned, repainted streamliner. Don set a one-way speed of 240.244 mph on gasoline, only to have the rear tire blow out on the return run. Two weeks later, Don became the fastest man on two wheels by establishing the record at 251.924 mph
1975 Don Vesco first over 300 mph on a Motorcycle
1975 World Record holder Don Vesco & the Silver Bird
Don Vesco & Sky Tracker wreckage
A Photo Tribute to Don Vesco
The Early Years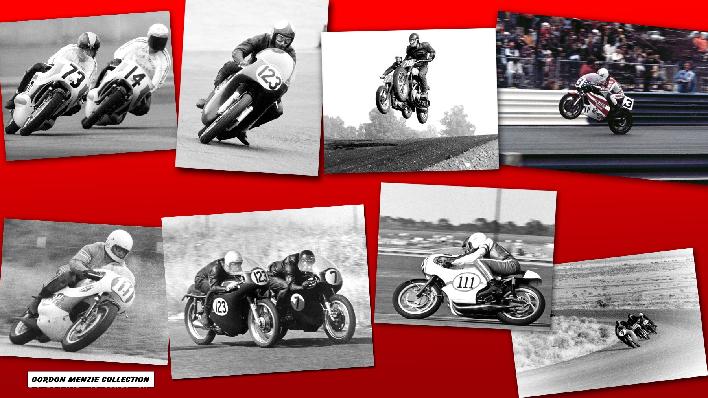 Road Racing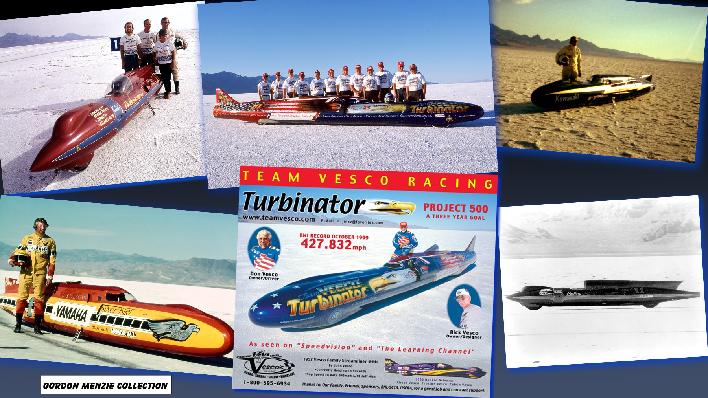 Land Speed Racing
Don Vesco 1939-2002