Crowd pleasing TURBINATOR II makes its debut at SPEED WEEK 2013
Last January Rick Vesco announced that the Turbinator would return to Bonneville Speed Week in the form of TURBINATOR II. In just ten months time, Rick designed and built an almost totally new car. TURBINATOR II has an all new carbon fiber body, new tail fin design, powerful new T-55, 4213 horsepower turbine engine, new parachute system, new steering, new brakes, new tires, wheels and a beautiful new paint scheme.
Racing enthusiasts and media alike were thrilled with the sight and sound of the
new car.
| | |
| --- | --- |
| Rick at Speed Week 1954 | Rick at Speed Week 2013 |
Team Vesco gives a shout out to Crew Chief Rick Vesco
Little did Ricky Vesco imagine in 1954 that for the next 60 years he would continue to come to the Bonneville Salt Flats each year and participate in one form or another in Speed Week. This year Rick has managed to bring two Land Speed record setting cars to the flats with the hope of capturing the ultimate Land Speed Record time. Your team salutes you!

Team Vesco gives a big shout out to AL & Hal!
Al Sanderson motors have set over 85 land speed records with his engines since the 1950s. Thank you Al for your continuing support with your Small Block Chevys for Little Giant.
Team Vesco thanks artist Hal Tacker for his heartfelt enthusiasm and artistic talents displayed in his custom painting of #444 Little Giant.
| | | |
| --- | --- | --- |
| Rick "Ricco" Kunze | | |
Team Vesco gives a shout out to our New


driver-Rick Kunze, New team member and driver-Bob Blakely and
New 200 mph Club, 300 mph chapter member-Eric Ritter.
Way to go guys!
Speed Week Recap - in the pits
The majority of Team Vesco's crew arrived at the salt on the first day of inspection. By the time the support trailer arrived two days later, the crew was eager to put the tents up and organize the pits. This was the first time Team Vesco raced 2 cars housed under three tents with a crew of a dozen or so. The crew worked tirelessly and without complaint. We are grateful for the efforts of the crew and friends
of Team Vesco.

A few final adjustments were made on TURBINATOR II and it was off to Inspection. The safety inspectors made a few more requests which were quickly put into place.

Technical experts were on the scene to assist Team Vesco. Jimmy Rodriguez of JDL Engineering set up the electrical components. Ron Armstrong and Tim helped install the RacePak Data system. Corey Blakesley, Marine Turbine Technologies engine specialist, was also on hand.

Team Vesco's #444 Little Giant
also arrived on the salt with a brand new paint job. Aviation & portrait artist, Hal Tacker, designed the update and painted the old gal, giving her a classic look. A tribute to John, Betty and Don Vesco is featured on the nose of the car.
The American flag runs down the side until it breaks up - due to speed! Hal is from Colusa California where crew member Ricco Kunze lives and has been readying #444 for this year's Speed Week.
Hal worked closely with several local body shops to get the work done. Thanks guys!
The "Little Giant" had a busy week. She arrived with a 434 ci Al Sanderson Small Block Chevy ready to run in the B fuel class with Dave Spangler driving. Problems developed on the run resulting in damage to the engine so the Team Vesco crew went to work changing out that engine for another Al Sanderson motor. This time our newest team member, driver Bob Blakely
,
sat behind the wheel with a 372 ci C motor on fuel. Mechanical difficulties prevented Bob from
making the necessary runs to qualify for a record so once again, Team Vesco did an engine swap. This third motor was a Spangler/Vesco 372 ci C engine on gas. It is fondly referred to as the "learner engine." Experienced crew member, Ricco Kunze, drove for the first time
and successfully obtained his D license.
| | |
| --- | --- |
| Bob Blakely | Rick "Ricco" Kunze |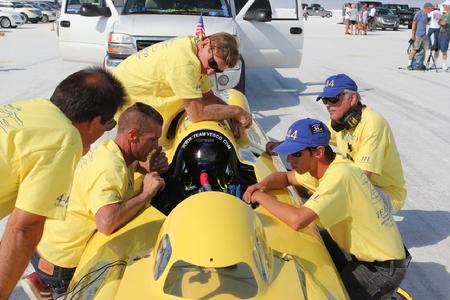 A "glow" of yellow surrounds #444 at the starting line.
Rikki Scott, team photographer

Team Vesco thanks the clubs and organizations that make salt flat racing possible. We thank the countless volunteers, safety crews, timers and course stewards. Save the Salt!



Support Team and Friends...
We want to thank LandSpeed Louise for her dedication to Motorsports journalism. Getting the records and stories straight is so important. We thank her for hanging in there and perserving a true and accurate accounting in words and pictures of landspeed history

for those who will follow.



| | |
| --- | --- |
| Vesco's current FIA absolute WORLD wheel driven record of 458.481 MPH and top speed of 470 MPH was established in 2001 with Don Vesco driving. Don was inducted into the AMA Motorcycle Hall of Fame in 1999 and the Motorsports Hall of Fame shortly after his death from cancer in 2004. The cancer prevented Don from realizing his dream of being the first over 500 MPH in a wheel driven car. But Team Vesco is determined to carry on. When this epic goal is finally achieved, it will stand alone in the chapters of the world's automotive history. | Don Vesco & The Turbinator 2001 |