Don Vesco holds Hot Rod Magazine's prestigious Top Time Trophy. He is the only person to have received this award for both a car and a motorcycle (322 mph 1978)
October 18, 2001, at the Bonneville Nationals Inc. World Finals time trials, Don Vesco driving "The Turbinator" set the all out land speed record for wheel driven cars at 458.440 mph. Prior to the World Finals event Don had set three consecutive national records in excess of 400 mph: World Finals 1997 - 400 mph, 1999 - 417 and 427 mph. Don and "The Turbinator" drove over 400 mph than any other car in history. On one run Don's exit speed reached 470 mph and was still accelerating! 500 mph was within Don's reach.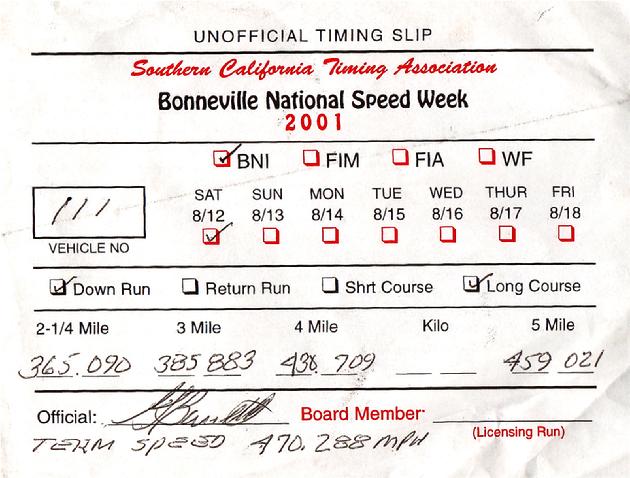 Don's timing slip. Just 30 mph short of his dream.
"The Turbinator" was powered by a stock 3750 hp @ 16000 rpm internal combustion engine. The shaft (P.T.O.) drives the Turbinator's four-wheel drive system. The exhaust pressure is only 60 p.s.i. Lance Morris Engineering along with turbine expert, John Walters will modify the unit to produce a reliable 4400 hp @ 16500 rpm.

It will be dyno tested at Bernie Little's facility in Seattle, WA, home of Miss Budweiser hydroplane.
Don & Rick Vesco
This photo was taken by Thomas / Pork Pie just minutes after setting the record. I didn't tell Don about this victory banner I had made prior to the race event. If you look carefully #58 of 458 is written with black electrical tape we stuck on when we were notified of the average speed from the official timer, Glen Barrett, Oct. 8, 2001.
This was a scary stop from the 470 mph run at SpeedWeek, '07. Don said this was a "shake down" run just to test the new gear box and chute deployment system -- some shake down! Remember at SpeedWeek you only have two miles to stop the car or in our case about 16 seconds @ 470+ mph. Even with both Stroud Safety chutes and CNC 4-wheel brake working perfectly Don went 1 mile beyond the end of the raceway missing most of the salt buckles. Don thought it was great fun! Thanks again to Bob Stroud and Chuck at CNC for the safety equipment and to Thomas "Pork Pie" Graf for a great photo.
The Turbinator at full speed just prior to having a flat tire on the return run. Oct. 18, 2001.
Photo by Louise Noeth
This custom 2:1 reduction gear case was engineered by Bob Hodgkinson. It reduces the engines 16,500 rpm by 1/2 . The ring and pinion ratio of 1 to 1 will be lowered 1.25 to 1 for 2009. Sponsors for this gear box: Jiffy Machine El Cajon, CA. Carpenter Steel & Techonology world wide, Ramtreat, and The Gear Works, Portland, Oregon. Thank you for the great workmanship.
This is the location of the 2 to 1 gearbox, bolted just in front of the air intake. This was a huge problem during our 2001 record attempt of 458 mph. The gear box restricted the air flow creating cooling problems. Don had to back off the throttle 13 times on the 1st run and 9 times on the return run just to keep the egt below 1500. Our speeds were within 1 mph each way. See 2009 updates.
| | |
| --- | --- |
| 28" added | The car was lengthened by 28" so that the gear box could be moved forward allowing unrestricted air flow into the turbines compressor section. The black tube is now the gear box mount and houses the new drive shaft. There will be new automatically adjustable air scoops fitted to the body - open full at slow speed and will progressively close off with acceleration. |
| | |
| --- | --- |
| Air redirect | Here is another view of the air flow redirect into the turbine's inlet. It's a very clean, straight shot. The air scoop and sheet metal duction has yet to be completed. Lance Morris & Robbie Faulkner will work out the details and design an adjustable air inlet "scoop" system. Thanks to Morris Industries and Advanced Engineering. |
| | |
| --- | --- |
| Gear box mount | Here is a view of the new gear box mount (just above Suzuki) without the driveshaft installed. By lowering the final gear ratio and establishing proper air flow we should go from 73% rated rmp or 50% h.p. up to 95% - 100% rated power. The goal is to attain just over 500 mph on the standard SpeedWeek track length of 5 miles. However we will need 3 to 3 1/2 miles to stop...Help!! |