| | |
| --- | --- |
| Dave gives driver Eric Ritter some last minute driving tips. | Starter Monte Widdison checks seatbelts |
Team Vesco arrived on the salt a day early with new valve springs, new gearing, new lower shaft on the quick change and newly repaired parachutes. Nevertheless, World of Speed 2012 proved to be a test of Team Vesco's tenacity. On the first day of the meet Eric Ritter drove
The Little Giant #444
D/Fuel Streamliner, with the Al Sanderson 304 c.i. sbc
to a top speed of 320 mph
(twice) on a Spangler/Vesco 323 mph record.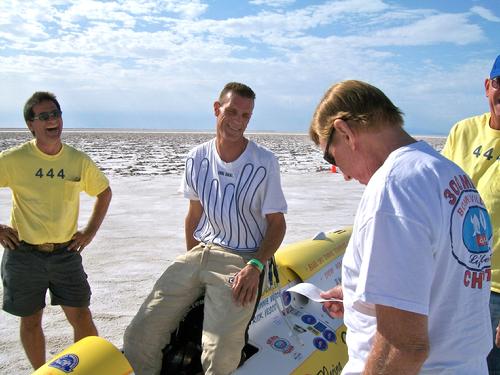 Chip, Erick & Dave discuss timing slip speeds.
The decision was made to swap engines. With high energy and teamwork
the Vesco/Spangler 372 c.i. sbc, C/gas motor
was installed in record time.
The first run with new motor produced a speed of 319 mph. Jetting was adjusted and Eric ran 321.299 mph - his top speed and Top Speed of the Meet. On the last day a failure with the quick change stopped Team Vesco just short of their 323 mph record goal.
One of our favorite things about World of Speed is visiting with the busloads of students
on "field trip" to the salt flats. Instructors and students alike show a keen interest in the races as well as in the history of land speed racing. Team Vesco is always eager to introduce
others to this unique and challenging sport.
Our pit set-up presents a rich history of materials including photos, programs magazines from the 1930s to present time.
So whether you are a passionate participant or a casual spectator - Team Vesco welcomes you!
Watch the live action in the pits & on the track
| | |
| --- | --- |
| Engine builder Al Sanderson | Drivers Eric & Dave |
One of our favorite things about Salt Flat Racing is the people you meet, the friends you visit and the crew you treasure. This month on our way north to the salt we stopped in Lindon to say "hi" to Rhonnie and her colleagues at Mountain View Marketing. Thanks for the hats guys!

Land Speed Louise has been a friend of Team Vesco's for a decade or more. Louise is a passionate promoter of land speed racing in all media formats and even taking the message to
high schools across the country through curriculum development.
For more info: http://www.lincolninteractive.org/curriculum/cutting-edge-science
Thanks LSL!

Russ Deane has worked tirelessly with the Save the Salt Coalition informing lawmakers, government agencies and industry leaders of the deteriorating salt conditions and calling them to action. Thanks Russ!

Jim Burkdoll and the entire USFRA team have always had first place in our hearts. We thank you for another well run, friendly meet. Thanks USFRA!