Photo by Rikki Scott
Our Al Sanderson prepared 435 c.i. Small Block chevy showed great promise at Speed Week 2011. Unfortunately, the entire week was consumed with tuning for exhaust gas temperatures, solving shifting issues and replacing a bearing in the quick change. We are excited to try again for the B fuel streamliner record of 344 mph in October at the World Finals.

In September at World of Speed we will continue on plan to run for the DGS record of 304 mph with another Al Sanderson prepared engine. Rhonnie Vesco will be the driver. Go Rhonnie!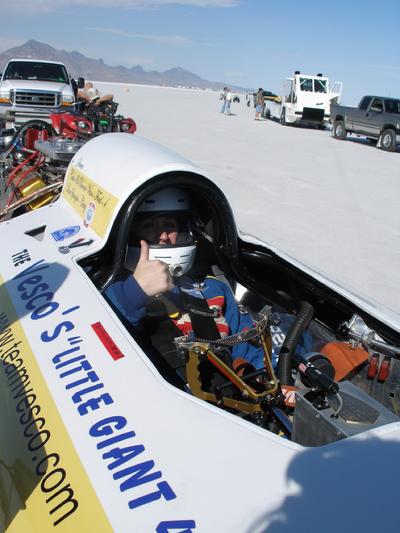 Rhonnie on starting line 2009
Rick Vesco holds "the black hat"
This year the prestigious 200 mph Club added a 400 mph chapter. A handful of racers that have achieved a speed of over 400 mph were honored as founding members with a "black hat." Team Vesco is proud of Don Vesco's achievements and his long standing record of 458 mph. We thank the 200 mph Club for growing with the times and recognizing these brave pioneers in the race for speed.
Team Vesco's 111
Looking ahead...
Team Vesco is preparing to bring the World's fastest race car back to the salt in 2012. Car #111, "The Turbinator," still holds the Absolute Wheel Driven Land Speed Record of 458 mph. Team Vesco is committed to capturing the title of "First to 500 mph." The late Don Vesco knew the car could do it and so do we. Sponsorship opportunities are available for qualified partners. If you wish to join us on this epic journey contact Team Vesco.
Take a ride in #444 with Eric!
| | |
| --- | --- |
| Team Vesco Pits | Crew member Rick Kunze, the "Data Guy" |
Team Vesco arrives on the salt, sets up pit area, passes tech and is ready to go.
| | |
| --- | --- |
| Dave Spangler, Rick Vesco, Cliff Scott | Karen Spangler assists Dave |
Driver Dave Spangler tries on the new Hans safety device in preparation for his run. Dave will also be using a new communication system with earphones under his helmet.
Driver Dave & crew
Engine builder, Al Sanderson, holds the umbrella for Dave. #444 is sporting an Al Sanderson prepared, 435 c.i. small block Chevy, geared for 350 mph and ready to break the 344 mph record in the B - Fuel streamliner using VP racing gas.
| | |
| --- | --- |
| Crew member Bill Lee looks on while in starting line. | Dave is ready to run. |
Team Vesco welcomes new crew members this year; Jill Woodard an excellent parachute pickeruper, Al Sanderson our engine builder, and Jake Woodward an all around helper dude. Thanks!
| | |
| --- | --- |
| Crew member and driver Eric Ritter prepares the 304 ci engine to be installed. | Dave helps Eric suit up. |
After the big engine lost a rocker arm, it was decided to install the smaller 304 c.i. motor and begin the tune up process for September's World of Speed. This motor will power #444 in the D-Gas streamliner class and chase a record of 304 mph.
| | |
| --- | --- |
| Dave and Cliff tuck Eric in! | Eric changes from his famous red shoes to black racing boots. |
| | |
| --- | --- |
| A certain crew member had his shirt on backwards for the photo shoot! | "Photo Fox" Rikki Scott takes crew pics. |
Engine builder, Al Sanderson, proudly points to his decal in honor of "The Boss Lady."
Strange Sightings on the Salt
Team Vescos wishes to thank all of the Scta-bni volunteers and support people who make Salt Flat racing possible. We want to thank Monster for making the trip to Bonneville and supplying us with "energy." We thank Danny Boy and Dennis Varney for their delicious apples, food and friendship. We thank all the participants who unselfishly give of their time and car parts! Team Vesco thanks our sponsors for their interest in our projects. Last, but certainly not least, we thank our all volunteer crew that come from coast to coast to keep Team Vesco rolling. We love you guys!
| | |
| --- | --- |
| Jinx Vesco thanks her "salt sisters" who make it fun and add a touch of grace to land speed racing. | Hats off to friend and crew member, "The Voice of Bonneville," Glen Barrett, 200 mph Club Man of the Year! We are so proud to be associated with you Glen. |