Rick Vesco - Outstanding in his Field!
Rick Vesco




Rick Vesco

- owner, designer and driver. Rick, born into the legendary Vesco racing family, set his first land speed record at age 16 on the Bonneville Salt Flats. Rick's 1976 record won him membership in the 200 MPH Club. His motorcycle experience includes cross country and motocross racing, building & tuning for his brother, Don Vesco. Rick designed and built the World's Fastest Wheel Driven car that set an F.I.A. record @ 458 MPH (2001) with Don driving. In 2009 Rick achieved a record of 335 MPH in the family race car, #444, and was inducted into the 300 MPH Chapter of the 200 MPH Club. Rick's background also includes Product Development Engineer for Hooker Headers, owner & operator of Motorcycle/ATV dealership for 30 years. Rick is retired, living in Southern Utah working on the TURBINATOR II first to 500 MPH project.



Don, Norma, Betty, John and Rick Vesco in 1957.
Rick's interest in Land Speed Racing at the Bonneville Salt Flats began at an early age. John and Betty Vesco would make the 700+ mile trek to the Utah desert from San Diego every year - even when the boys were babies! John taught the boys how to be expert crew members, drivers and mechanics.
1959 Rick began drag racing at age 14 in Mexico and continued the drags until 1964. He set two track records at Long Beach Raceway and Romona Raceway on a 500 cc Triumph and 250 cc twin engine Yamaha.

At age 16 he set a new AMA Land Speed Record on the Bonneville Salt Flats with a 500cc gas motorcycle @ 131 mph.




Drag Bike
| | |
| --- | --- |
| 1960 | The "Water Pump" |
While still a freshman in high school, Rick was given a 1932 water pump engine. After borrowing and

buying parts for it he made many trips to the drag strip.

Cycle World magazine featured it in two page article.




Using a carb from Dad's race car, a mag from an airplane, a Triumph motorcycle gear box and a Norton frame,

Rick won over $350 one summer at the drag strip. The "Pump" reached a top speed of 107 mph!



| | |
| --- | --- |
| "The Fish" | 1968 designed and built a motorcycle streamliner for Bridgestone Motor Corp. setting a new Land Speed Record for 100 cc on gas @ 113 mph; a record that was not broken until 2004! |
| | |
| --- | --- |
| # 444 as "The Pepsi Challenger" | 1969 - 1985 drove father, John Vesco's Model B Ford powered streamliner # 444 - The Little Giant. |
1970 went to work for "Super Dave" Spangler at Hooker Headers as product development engineer. Rick designed a new line of exhaust systems for snowmobiles and motorcycles.

Designed and built a twin-engine Yamaha motorcycle streamliner. Both engines were supercharged. Has been restored for museum display.




Rick as a Hooker employee
Rick shows his new m/c streamliner to "Super Dave" Spangler and the Hooker crew.
Brother-in-law Scott Foster and brother Chuck push streamliner off the starting line.
1973 left So. California for northern Utah. Rick and brother Chuck owned and operated a motorcycle, snowmobile sports center for 30 years.

1975 redesigned the family streamliner, # 444, installing a new body and a Yamaha 700 cc engine. Ran 196 mph and 169 mph with a Yamaha 500 cc - both times were record setting.

1976 gained entry into the prestigious Bonneville 200 MPH Club, setting a new record at 211 mph on gas with two 40 c.i. Yamaha engines with a top speed of 232 mph.




Shop in Brigham City, Utah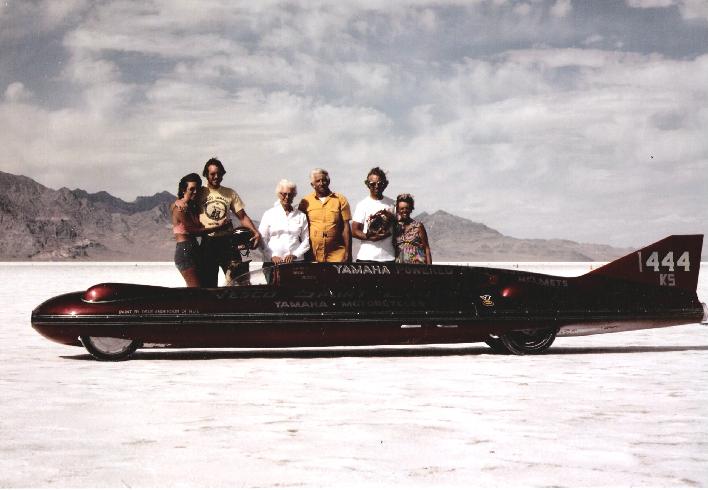 The Vesco Family
1977 - 1979 raced # 444 with 1932 Model B Ford engine to a top speed of 204 mph and a HAL four cylinder engine to 211 mph.

1980 installed a Ford V-8, Boss 302 stock engine and ran on gas to a record of 237 mph at Bonneville Nationals. Ran 258 mph at the USFRA meet.

1981 with a 350 Chevy V-8 engine, Rick drove the Little Giant to a speed of 300.3 mph on gas.



| | |
| --- | --- |
| Vesco & Howard in Mexico | Rick modified # 444 to serve as a "wind break" for John Howard's bicycle record at 152 mph. |
1984-1988 designed and constructed the new 4wd Streamliner #111, "The Turbinator."

1988 - 1989 Turbinator testing of Team Vesco's "Project 425 mph" resulted in runs in excess of 350 mph.




Calvin Vesco leans on Dad's new car at the starting line.
1996 inducted in Dry Lakes Racing Hall of Fame.

1997 drove the Vesco family streamliner # 444 to a speed of 301 mph with a D-gas 305 cubic inch Chevy engine.

1996 - 1998 Chairman of Save the Salt Inc. a project to restore the historical Bonneville Salt Flats in Utah. The project will return 1.7 million tons of salt annually.




The Nish family set many records with # 444.
World's fastest wheel driven vehicle @ 458 mph!

2000 Rick and Don set new national records @ 427 mph and 438 mph with The Turbinator.

2001 Rick and Don set the FIA World Record at 458 mph with a test run of over 470 mph!

Rick and Don are presented the "Car Guy of the Year" award.

2002 - 2004 Rick and wife, Jinx, retired, moved to So. Utah and built race car shop and new home.



| | |
| --- | --- |
| Little Giant at 50 years! | 2007 restored the historic family car, # 444 Little Giant streamliner in celebration of its 50th year on the salt! |
2012 Rick began the task of upgrading the Turbinator to finish the modifications brother Don had begun before his death. A new carbon fiber body was made for the now 6 foot longer vehicle. Modifications included a new engine package, new parachutes, new tires and a whole lot of upgrades on existing systems. The new body needed a new paint job as well.
2013 saw the "mostly all new" Turbinator was back on the salt to be called "Turbinator II." Don and Rick's dream of being the "First to 500" was in site.
2013 was an historic year for the Vescos in other regards - the new "Turbinator II" as well as the "Little Giant #444" were both on line competing for records in their classes. The Vesco pit was very busy that year!