Our goal for 2019 is to set the first official record over 500 MPH for a wheel driven car with pneumatic tires and an internal combustion engine. We hope to do this with the Vesco TURBINATOR II at the SCTA sponsored Speed Week held at the Bonneville Salt Flats in August. An official record will require that the average speed over two separate one mile passes exceed 500 MPH.
Our engineers are hard at work to improve the horsepower of our Honeywell T55 -GA-714A shaft gas turbine engine. They are also attempting to further develop our ability to control excessive wheel spin. Based upon our currect situation, we think that speeds well over 500 MPH are possible.
Southern California Timing Association' Bonneville racing season begins with Speed Week August 10, 2019.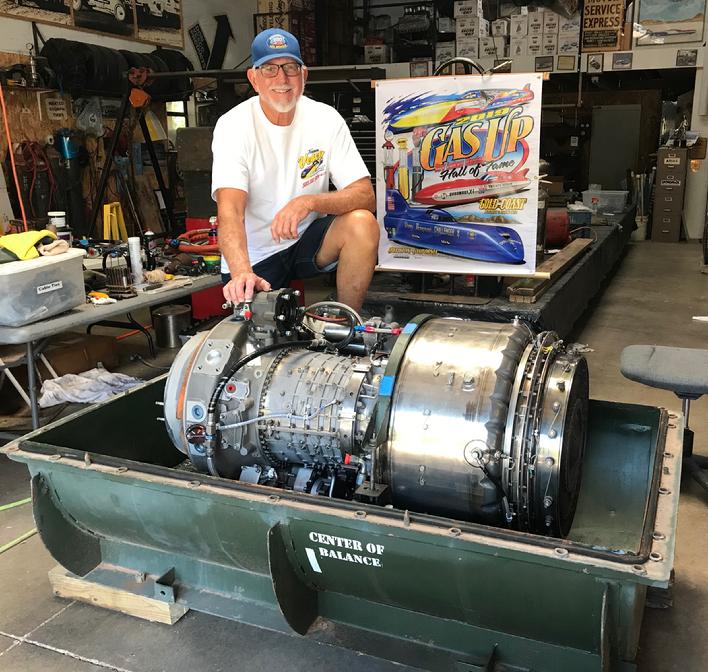 The newly modified 2018 T-55 turbo shft race engine will provide more power in 2019 with less Exhaust Gas Temperature (EGT).
Team Vesco's TURBINATOR II inducted into Dry Lakes Racing Hall of Fame at the 2019 "Gas Up" event sponsored by the Gold Coast Roadster and Racing Club at the Mendenhall Museum in Buellton, California. Rick Vesco and driver Dave Spangler were among the honorees. TURBINATOR II was in the "Currently Running" vehicle class at the 23rd annual event.

Team Vesco Crew
Rick Vesco and Driver Dave Spangler received honors at the 80th Annual SCTA Awards Banquet in Pomona, California. SCTA-BNI sanctioned events, 2018 Speed Week and World Finals, were the venues for Team Vesco's TURBINATOR II to set the Fastest National Bonneville Car Record in history 482.646 mph, Fastest Wheel Driven Flying Mile 493.037 mph and Fastest Top Speed 503.332 mph.
New - 1st to 500 mph Posters
There's only one FIRST! This magnificent photo was taken on the Bonneville Salt Flats after our historic 503 mph run. The car was in the impound area waiting to make the backup run required to establish an official record, when the rains came covering the entire flats. The resulting downpour provided a beautirul backdrop for this photo of Turbinator II reflecting in the water. Unfortunately, the storm caused the meet to be canceled.

Driver Dave Spangler and car owner/builder Rick Vesco
T55-GA-714A Shaft Gas Turbine
5000 HP

Tread width fr. 17" r. 12"
Tires Mickey Thompson 24.5 x 7.50-16 Spl. Bonneville













KSL

Salt Lake City sports news reporter Alex Cabrero visited with Team Vesco on the salt flats to find out about Dave Spangler and TURBINATOR'S historic 503 mph run.




Alex Cabrero interviews Rick Vesco