Team Vesco members with Ryan Evans, lead painter of Count's Kustoms and TURBINATOR II airbrush artist.
| | |
| --- | --- |
| Rick Vesco & TURBINATOR II at SEMA | Don Vesco's "Wally" trophy was on display with TURBINATOR II. |
TEAM VESCO ON HISTORY 2017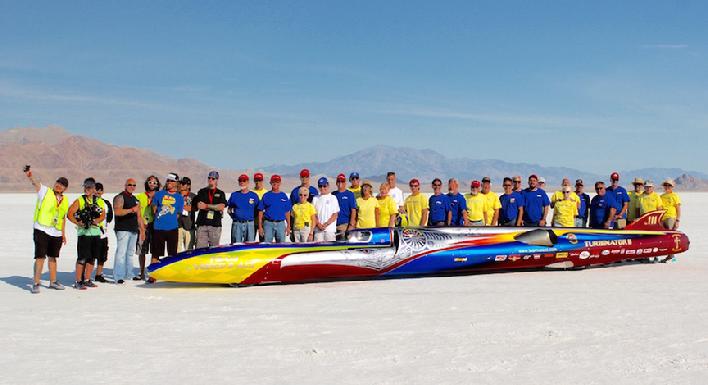 Team Vesco Crew with "Counting Cars" crew at Speed Week
Team Vesco's Project First to 500 MPH and the Turbinator II streamliner will be featured on History's very popular program "Counting Cars" now in its 7th season. Filming began at the Team Vesco shop in February and air date will be Tuesday, October 24th.
The Turbinator II body was badly damaged in a mishap at 400 MPH during the Utah Salt Flat Racing Association September 2016 Wold of Speed event. Danny "The Count" Koker and airbrush artist Ryan Evans applied one of their legendary paint jobs to the new Turbinator body.
Ryan, Kevin, Roli and "Horny" Mike came to Bonneville during Speed Week to film part of a two part episode featuring Team Vesco & Turbinator II.
Cast from "Counting Cars" Kevin, Ryan, Mike & Roli
| | |
| --- | --- |
| Airbrush artist Ryan Evans | Kevin and Ryan from "Counting Cars" |
| | |
| --- | --- |
| Ryan & #444 "Little Giant" | Ryan adds finishing touches to Turbinator II |
Top Time at the World of Speed
In spite of losing a day of racing because of high winds, Team Vesco's TURBINATOR II made three blistering runs at over 430 mph. Co-driver Eric Ritter continued to put the powerful turbine engine from Advanced Turbine Services to the test. Modifications made after Speed Week provided a more stable ride, even with the rough track conditions. It was an exciting two days of running for the entire Team Vesco crew and friends. Rick Vesco and Dave Spangler are confident they will be able to break Team Vesco's own National record of 427 mph and power on toward the 500 mph mark. Look for Team Vesco at the World Finals event October 3 - 6 on the Bonneville Salt Flats.
TURBINATOR II 435.875 mph!
Project First to 500 mph is on!
Bonneville Salt Flats, Utah