Our goal for 2019 is to set the first official record over 500 MPH for a wheel driven car with pneumatic tires and an internal combustion engine. We hope to do this with the Vesco TURBINATOR II at the SCTA sponsored Speed Week held at the Bonneville Salt Flats in August. An official record will require that the average speed over two separate one mile passes exceed 500 MPH.
Our engineers are hard at work to improve the horsepower of our Honeywell T55 L-712F shaft gas turbine engine. They are also attempting to further develop our ability to control excessive wheel spin. Based upon our currect situation, we think that speeds well over 500 MPH might be possible.
Rick Vesco and Driver Dave Spangler received honors at the 80th Annual SCTA Awards Banquet in Pomona, California. SCTA-BNI sanctioned events, 2018 Speed Week and World Finals, were the venues for Team Vesco's TURBINATOR II to set the Fastest National Bonneville Car Record in history 455.107 mph, Fastest Wheel Driven Flying Mile 493.037 mph and Fastest Top Speed 503.332 mph.
TURBIINATOR II is the FIRST TO 500 MPH!
Team Vesco and TURBINATOR II arrived bright and early on October 1 for the World Finals Speed event on the Bonneville Salt Flats. The car was inspected, tuned up and ready to run the next day. The first and only run driver Dave Spangler made was a blistering 493 mph run with an incredible top speed of 503 mph! Never in the history of land speed racing has a car with an internal combustion engine that drives the wheels on pneumatic tires clocked such a speed. The powerful T55-L-712 Shaft Gas Turbine with it's nearly 5000 horse power from Advanced Turbine Services (ATS) did the trick!

Team Vesco's dedicated crew prepared the car in impound for a return run the following day to put the record in the books. However, the rains came causing the event to be closed after the only day of running. Team Vesco is looking forward to future improvements with the car and hopes to complete the runs for the first official record for a wheel driven car over 500 mph.

New - 1st to 500 mph Posters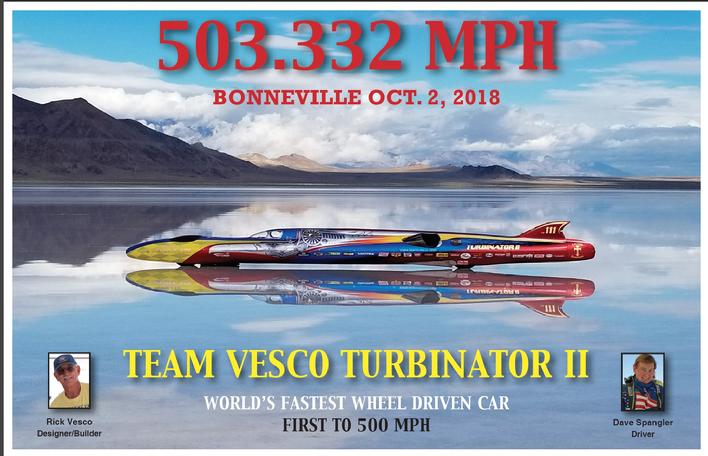 There's only one FIRST!
From the timer's compter
Driver Dave Spangler and car owner/builder Rick Vesco
T55-L-712 F Shaft Gas Turbine
Tread width fr. 17" r. 12"
Tires Mickey Thompson 24.5 x 7.50-16 Spl. Bonneville













KSL

Salt Lake City sports news reporter Alex Cabrero visited with Team Vesco on the salt flats to find out about Dave Spangler and TURBINATOR'S historic 503 mph run.




Alex Cabrero interviews Rick Vesco
TURBINATOR II